Larissa Poho
What is your favourite medium as an artist?
I am so fortunate to work in a variety of creative fields and with a verity of mediums. I really love working with ink, and over the last few years I have become fully enamoured with the medium and craft of tattooing.
Why does that medium inspire you?
Working as a tattooist, I am driven by the high-pressure permanence of the art form. I love working with a patron's natural body architecture, and creating pieces that fit and flow with their unique bodies. I am inspired by the people who choose to adorn their bodies with tattoos – the act of facing the fear and discomfort, and choosing to sit through it, is a transformational experience that contributes to the overall value and reception of the finished piece. Just as some patrons choose to fill their walls with art, tattoo collectors choose to carry their gallery with them on their bodies. I am also fascinated by the thousands-year-old history of tattooing across many different nations and cultures. (and while "Ukraine" may not have a strong history of tattooing, the Scythians who roamed this land in the Bronze Age did!)
How does the medium help tell stories about Ukrainian history and culture?
As tattooing has become more mainstream, I see more and more people of Ukrainian heritage choosing to immortalize their culture on their skin. And it's not all tryzubs and blue/yellow flags. People are getting vyshyvanka, petrykivka, rizba, pysanka and trypillian motifs.. they are getting Ukrainian folk remedies, symbolic botanicals, animals and creatures and persons from Slavic folklore.. It is a way for people to memorialize a loved one, to reconnect with their cultural identity if they've been estranged, and a way to celebrate Ukrainian identity in a very public way. I am also seeing a large trend in solidarity tattoos – people who may not be Ukrainian themselves but who feel moved by Ukraine's present story and resilencr in the ongoing russcist war – often these tattoos are done by donation, with proceeds going towards humanitarian aid. Tattoos are taking Ukrainian ethno-folkloric content and presenting it in a stylized and aesthetic way. It's our modern-day folklore and a keystone of trending contemporary Ukrainian culture.
What do you want the people who consume your art to understand about what you're trying to say?
I want them to better understand that tattoos are for all bodies, and can be beautiful, spiritual, and oftentimes healing practices. People get tattoos for many different reasons, and we shouldn't pass judgement on how someone chooses to tell their own story or adorn their body. Our Ukrainian culture is very materialistic – we decorate our homes, our clothes, write eggs, craft with straw, carve wood and form clay. We have a strong, recognizable, visual culture and identity, and my practice is built on these traditions and honouring our roots. Decorating the body is no different.
What does ACUA mean to you?
ACUA means community, freedom and support. It means nurturing creative passion and holding space for artists to learn, grow, try, fail, explore, succeed, engage and exhibit.
Why is ACUA important in our community?
ACUA provides a safe space to take risks, to connect with like-minded individuals, to spark discourse and to amplify the voices of Ukrainian creatives. Relatability, connection and community are such a huge part of nurturing creativity. ACUA also provides financial support, marketing and networking resources, and opportunities to build new creative partnerships and personal relationships.
As a previous ACUA scholarship and awards winner, and exhibiting artist (offBEET: Larissa Poho & Borys Tarasenko, 2020), I am so grateful for the financial and community support I've received from ACUA – it has allowed me the opportunity to discover and share my authentic creative voice.
How can people who support ACUA artists help us tell our stories?
When we support ACUA artists, we are continually strengthening the bonds of the diasporic Ukrainian community. We are showing emerging and established artists alike that their stories and voices are valid and worth sharing, that there is an entire community who can relate and engage with their artistry. Through financial support, we encourage artists to invest in themselves, and help them to feel like their art is worth sharing (artists are very tender beings, and validation is so important). When we support ACUA artists and Ukrainian stories, we are continually inspiring each other to connect with our roots, keeping our shared culture alive and well.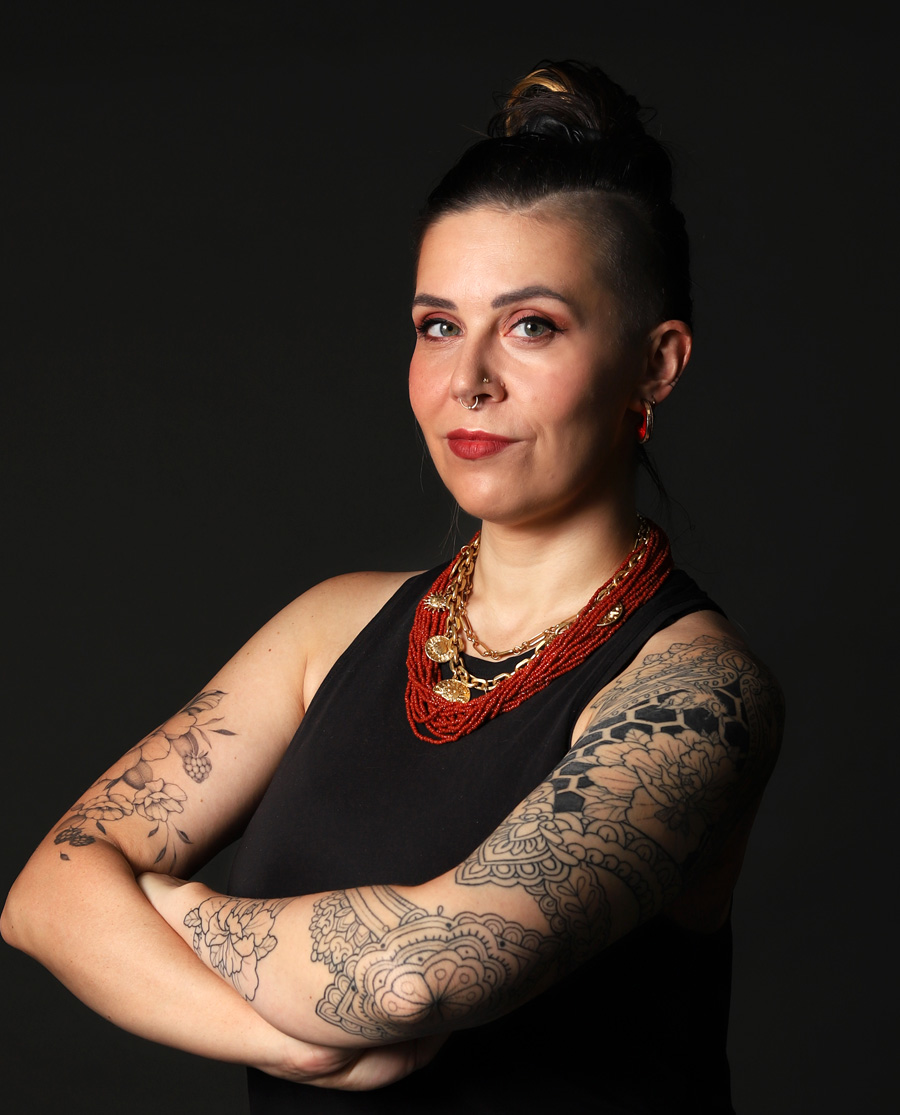 Photo by Larysa Luciw Photography
Consider donating to our Weave The Rushnyk campaign supporting ACUA Artists.