Donate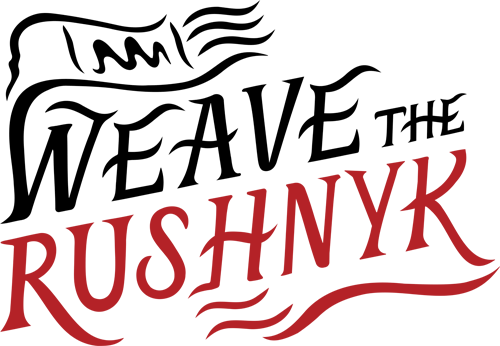 Our Art. Our Soul.
Donate Today & Add You Name to Our Wall of Honour.
For over 35 years Alberta Council for the Ukrainian Arts has been a space to honour our Ukrainian identity and tell the stories of our people. Art, books, clothing, food, gifts, music- all creatively defining who we are and why our history matters.
We are where we are today because of your support. We are grateful and thankful for all the donations we have received.
We are proud to announce that ACUA is a Registered Charity in Canada. Starting today, you may be eligible to receive a tax-deductible receipt for your generous gift.
To start this new era of giving, we are delighted to announce our Weave the Rushnyk campaign.
Weave the Rushnyk will honour the work of the artists who came before us while supporting local and newcomer artists who continue to tell our stories. Our art, our soul, is woven into our lives, into our culture. If you start to pull the strings of the rushnyk, it will unravel, it will be lost. If you pull the arts out of our Ukrainian culture, it will be lost. Join us in supporting the Ukrainian arts and artists, and help them to tell our stories.
Join our campaign and add your name to our Wall of Honour in our new Gallery and ensure your legacy will be forever woven into ours.
The Designer — $25-199
The Literary Artist — $200-499
The Performer — $500-999
The Ukrainian Folk Artist — $1000-4999
The Visual Artist — $5000 +
MAKE A DIRECT DONATION TO WEAVE THE RUSHNYK
Sincerely,
The Board of Directors of the Alberta Council for the Ukrainian Arts
Funds raised will support programs and initiatives for Newcomer, Displaced, Emerging, and Established Ukrainian Canadian artists.
Weave the Rushnyk is a fundraising campaign supporting Alberta Council for the Ukrainian Arts (ACUA).
The fundraising goal is $75,000 and the cost of the campaign is 10% of the goal.
ACUA
10554 110 St NW Unit 100, Edmonton, AB T5H 3C5
Charitable Number 89192 0464 RR001
For donation questions contact Robin McHugh [email protected]
---
Support the Alberta Council for the Ukrainian Arts
ACUA appreciates all of our generous supporters. Your donation allows us to support Ukrainian art and culture in Alberta.
Thank you for continuing to support ACUA!